BBJ's Top 40 Under 40 Class of 2015 includes Eco Three's Jonathan Handey
Eco Three is thrilled to announce that our Founder and President, Jonathan Handey, has been honored as one of the Birmingham Business Journal's 2015 Top 40 Under 40!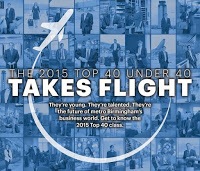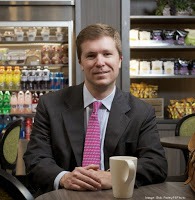 See his video on "When his career took flight" by clicking here.
Staff, Birmingham Business Journal, February 2015
Jonathan Handey, 34, leads a company that has regularly ranked as one of the fastest-growing businesses in Birmingham. Under his leadership, the energy efficiency company has steadily grown revenue and earnings.
What was the turning point that helped your career take flight? A little over a year into business we began working with the local firm Cayenne Creative and they helped us establish our new brand.
What has been the highest point of your career so far? There has not been one single point but being able to exceed our goals each year is always motivating.
If you were the mayor of metro Birmingham for a day, what one thing would you change about Birmingham and why? I would focus on creating a proper energy plan, including making the city's buildings more energy efficient in a cost-effective manner.
If you were governor of Alabama for a day, what one thing would you change and why? After having the honor of speaking to the Joint Legislative Committee on Energy, I learned they have a lot of admirable goals for our state in this area, but I would want to focus on a more cost-effective approach to achieving the goals
What's your favorite thing about living in Birmingham? I feel like the small business community has become very engaging and that we host one of the top business incubators in world with Innovation Depot
What's your ultimate career goal? Ultimately I would like to continue opening more branches in other states
What's one interesting fact about you that most people don't know? I am related to the Jack Handey who writes "Deeps Thoughts by Jack Handey"
What was your first job? Working at a waste water plant in the summer while in high school
Why did you choose your profession? I chose my profession because I enjoy meeting and working with homeowners on a daily basis and helping them improve the comfort and efficiency in their home
What's your philosophy on success in 10 words or less? Do what you say you are going to do
What one word would you use to describe yourself? Loyal
What's the hot topic in your industry? The ever changing building codes and how they improve energy efficiency in new construction
If you got a one-way airline ticket and had to use it tomorrow, where would you fly to? Sandestin, Fla.
No. 1 item on your bucket list? I look forward to being able to walk my daughter down the aisle at her wedding one day
What keeps you up at night? Missing the boat on staying innovative in my field
What inspires you? My wife and daughter
What's the best advice you've ever received? Work hard, be honest and the business will come.
What's the most important lesson you've learned? a referral is the ultimate compliment
What's the first Web site you check in the morning? David Jeramiah's daily devotion
Who's your favorite follow on Twitter? History in Pictures
What's the first thing you do when you get to the office? Say a prayer for a productive day
What's your guilty pleasure? a local craft beer
What's your favorite place in Birmingham (other than your home or the office)? a golf course
What's your favorite local restaurant? Café Dupont
Twitter handle? @ECOTHREE
Education? BA in Finance from The University of Alabama
City of residence? Birmingham
Family? Wife – Lindsay, Daughter – Anna Reece (2)