Why Should Insulation Be Removed?
When we talk to clients about insulation extraction (removal and disposal), the initial reaction is "why?!" Most people think more is better when it comes to insulation. This is a common misconception – especially when it comes to spray foam insulation. When spray foam insulation is applied to roof decking, the existing insulation must be removed from the attic floor. Why? Because two thermal barriers is NOT better than one.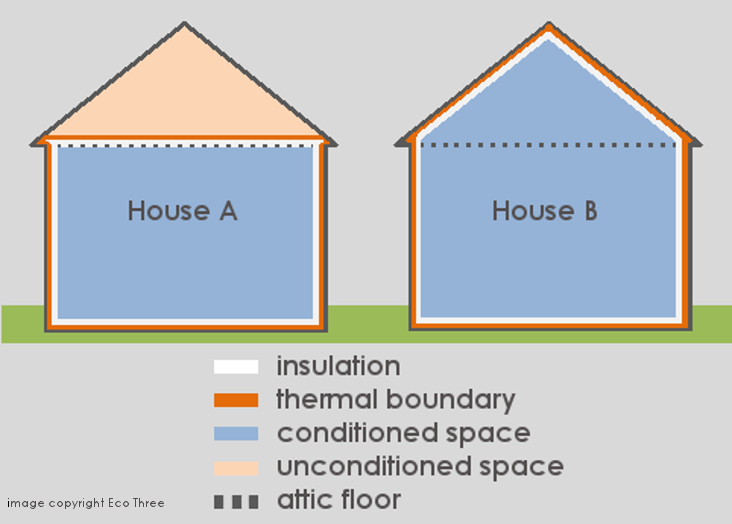 In the diagram, House A displays the thermal barrier of a typical house. The barrier runs along the floor, the exterior walls, and the attic floor. The insulation applied to the attic floor breaks the home into two thermal barriers: the main living space and the attic. House B has an encapsulated attic, where the spray foam has been applied to the roof decking and all venting to the attic is closed. The thermal barrier of house B is the attic ceiling/roof. When insulation is applied to the attic ceiling it should be removed from the attic flooring, thus removing the second barrier. Having two thermal barriers in a home is discouraged because it creates the potential for moisture problems such as mold.
Additional Reasons For Insulation Removal
Insulation removal may be needed for issues more immediate than energy efficiency. In the case of a leak or flood, wet insulation should be removed to prevent mold problems. Critters may enter your home and leave feces, which can negatively impact your indoor air quality. If you or your family suffer from allergies inside your home, a good solution would be to remove tainted insulation and replace with new.
Contact The Insulation Extraction Professionals
Generally speaking, as long as your home is properly air sealed, leaving old insulation is not a problem. If you suspect there is a problem with air leakage from your conditioned space, or have other causes for concern, it is best to contact the professionals. We at Eco Three will assess your home to determine the state of your insulation, and can make an informed judgement on whether removal is needed. Our team provides insulation removal services in the Birmingham and Gulf Coast areas. Give us a call, today!