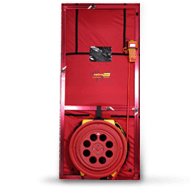 We perform blower door testing for existing homes as well as new construction.  A blower door test is a diagnostic procedure performed by a certified professional to identify air leakage in a building. The test simulates a 20 mile per hour wind blowing on the top, the bottom, and all sides of a home or building. Wherever air can enter through gaps, cracks, or other voids, it will.
We use the blower door test to discover paths of least resistance for air. This identifies areas where the air enters or exits the home and oppotunities for air sealing. It quantifies the amount of air leakage and, based on the volume of the home, can identify if a home is within the recommended flow standard. With this information, the we can make recommendations for air sealing upgrades for improved energy efficiency. For more information visit What Is A Blower Door Test.
New construction homes must not leak beyond a predetermined amount in order to meet Energy Code standards. We measure the building envelope tightness in "air changes per hour" at 50 pascals of pressure, or, ACH50. The manometer measures cubic feet per minute, and we can calculate ACH50 for each individual home based on its volume.  If you are a builder and need help figuring out how to better air seal and pass blower door tests, give us a call.