When you contact Eco Three for an energy audit, we will gather some initial information, request your utility bills for the past year (if you have them), and schedule a convenient time for your home evaluation.  When our expert evaluator arrives, s/he will conduct a brief survey with some basic questions regarding specific areas of concern and conduct an in-depth evaluation.
What Our Energy Audit is:
Our home energy audit includes an evaluation of your home's envelope (thermal and pressure boundaries), insulation levels, duct system(s), attic and/or basement/crawlspace performed by accredited professionals using state-of-the-art equipment and diagnostic tools.
Why It Is Different from "Free" Audits Offered by Some Companies:
Our comprehensive evaluation lasts 2-3 hours and results in a comprehensive Home Energy Efficiency & Comfort Discovery Report with specific ways we can help increase the efficiency of your house.
We Also Specialize in the Energy Efficient Upgrades:
We have our own crew of weatherization specialists who can implement recommended energy efficient upgrades.  This saves you the hassle of finding reputable workers, and we also perform a test-out on homes we upgrade to confirm we have improved the energy efficiency.
Our Energy Audits Include:
Comfort and concerns consultation.
Exterior, Interior, and HVAC Systems Inspection.
State-of-the-art energy audit using sophisticated tools for measuring temperature fluctuation and energy usage.
Safety evaluation including testing of CO levels throughout and around the exterior of the home, monitoring for gas leaks, etc.
Series of tests including a blower door test, which puts your home under negative pressure; this is essentially the equivalent of observing your home under a 15-20 mile/hour wind.
Information on federal tax rebates and energy incentives on appliances and for approved retrofits.
Home Energy Efficiency & Comfort Discovery Report.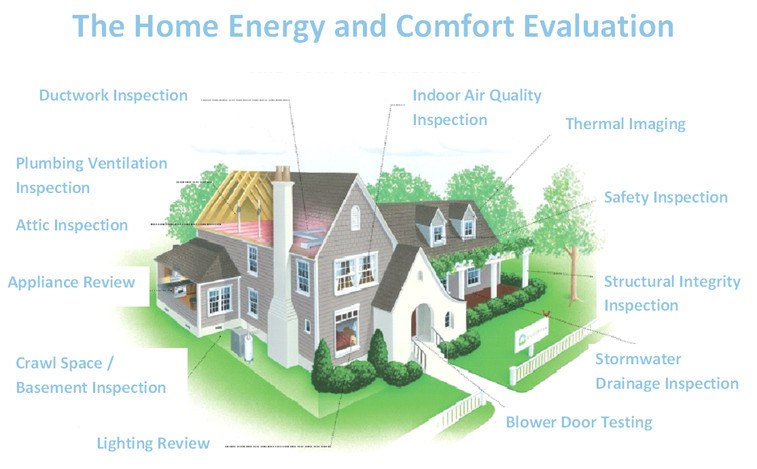 What the Home Energy Evaluation Involves:
Interviewing you to get a better understanding of your areas of concern.
Completion of an external walk around to inspect the gas meter for leaks, HVAC systems, foundation, roof, roof vents, windows, siding and storm water drainage.
Collection of interior data on lighting, appliances, safety issues (fire extinguishers, fire/CO alarms, mold, asbestos, VOC pollutants, etc), indoor gas leaks, general construction information, crawl space, basement and bathroom ventilation.
Inspection of the home and ductwork for mold and mildew, exposed wiring, gas appliance ventilation, insulation type/amount, and ductwork system leaks.
Examination of the combustible appliances (water heater, range/oven and heating system), making sure the systems are in good working order and venting properly.
Running a blower door test to expose leaks around windows, entry doors, baseboards, top plates, bottom plates, band joists, and other penetrations, etc.
Deciphering areas  of infiltration and exfiltration with infrared cameras.
Creating a personalized E3 Home Energy and Comfort Recommendation Report.
Discussing your options with you and helping to determine next best steps based on your return on investment.