Duct sealing is a critical component to improve comfort and efficiency.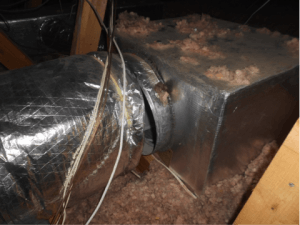 A duct system is a vessel for carrying warm or cool air to each room in a home. We can think of it like a hose for watering flowers. If one end of the hose is secured to the faucet, the other end of the hose is in the planter, and there are no holes in the hose, you will end up with water flowing directly to the plant needing water. However, if either end of the hose is not secure or if there are holes anywhere along the hose, water will leak and not all of it will end up in the planter. With proper duct sealing, your HVAC system can perform as it should – like a hose without holes.
Duct System Components:
A duct system is part of a home's HVAC (heating ventilation, and air conditioning) system and contains several main elements – a return (or central return), air handler, plenum, trunk-line, take-offs, and supplies (also known as registers or vents). Basically, when the HVAC system turns on it sucks air in through the central return. The air then enters the air handler that either heats or cools/dehumidifies it. Then, the air is forced out through the plenum, along the trunk-line, through the take-offs, and out of the supplies/vents into each room. Typical homes have the duct system in either the attic or basement/crawlspace.
Duct Leakage Basics:
Leakage in the HVAC system can occur at any of the points along the duct system – including the boots where the register grilles are located in each room.
Leakage on the return side of the system means the system is pulling air from wherever it can via paths of least resistance. That means a system pulls air from an attic or basement, and these areas tend to be hot (or cold) and potentially damp and musty. With this type of leakage, an HVAC system needs to work harder to heat or cool air from an unconditioned space where air tends to be warmer, cooler, or damper than indoors. Leakage on the supply side of the system means that air leaks occur after the air handler (after it has been heated or cooled). With supply leakage, heated or cooled air leaks either into the attic or crawlspace or inside walls of a home and does not reach the intended destinations of each room.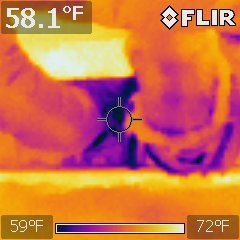 Sealing Duct Systems Makes a Big Difference! Clients who call us with uneven heating and cooling are amazed at the difference duct sealing in their homes makes.
Maintain comfort and save money with a properly sealed duct system. Call us today to have your system checked and for a quote to seal it; call 205-314-3500 for Birmingham and surrounding areas, or call 251-270-0942 for the Gulf Coast and surrounding areas.