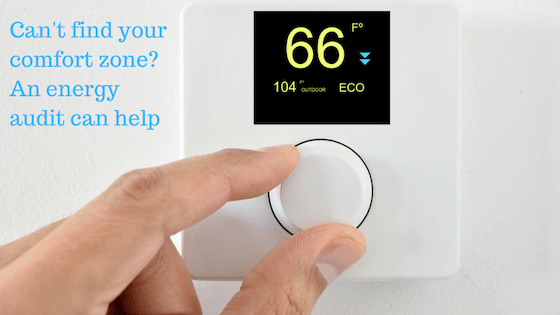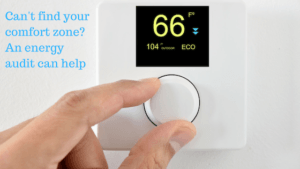 Do you have a comfort zone in your home? You know, one or two rooms that stay cool in the summer and aren't drafty in the winter? If you are like most people, you don't think about your home's hot and cool zones until your air conditioning is struggling against record heat in June. Or until you are bundling up in your home as soon as the temps drop below 40 degrees. Well, did you know a home energy audit can help you figure out why your home isn't consistently comfortable year-round and save you some money in the long run?
What is an energy audit, and why is it critical for today's homeowner?
According to the U.S. Energy Information Administration, heating and cooling account for about 50 percent of the total energy used in typical homes.  That's a pretty staggering statistic, given that in today's society we can't live without heating and air conditioning, but we certainly tend to cringe each month when that utility bill arrives. 
A home energy audit is an assessment that:
Determines how much energy your home uses

How much energy is wasted

What needs to be fixed to reduce the waste, and

How to prioritize fixes based on comfort needs and return on investment.
There are different levels of energy audits. Some companies or utilities may offer quick walk-throughs that rely on visual clues about a home's energy efficiency (like icicles on your roof in the winter or sweating walls or vents in the summer.)
However, a true and thorough home energy audit such as one conducted by a home energy expert at Eco Three includes an evaluation of your home's thermal and pressure boundaries, insulation, duct system, and crawl space/ basement/ attic using state-of-the-art equipment. The average home audit performed by Eco Three takes about two to three hours to get a complete picture of ways to improve your home's efficiency.  
By focusing on ways to improve a home's heating and efficiency, Eco Three helps clients reduce their utility bills by 15 to 40 percent – which certainly helps with the "cringe" factor.  "Generally, our recommendations have a payback period of five years or less, which means that within five years, the savings on your utility bills will essentially pay for the cost of the upgrades, said Eco Three owner Jonathan Handey. "An energy audit makes sense whether you are building a new home or just trying to improve the comfort level in an older home. You will save money in the long run and add value to your home."   
What types of things does an energy audit uncover?
Eco Three starts an energy audit by gathering information about energy usage using past utility bills and talking with clients about their specific comfort concerns.
Then during the actual onsite evaluation Eco Three does the following:
Inspects the exterior, interior, and HVAC system. The team also walks around the home to inspect the gas meter for leaks, check the foundation, roof, roof vents, windows,

insulation type/amount

,

siding, and stormwater drainage.

Performs a safety evaluation including testing of CO levels throughout and around the exterior of the home and inspection of the home and

duct work

for mold and mildew, exposed wiring and leaks.

Examines combustible appliances (water heater, range/oven, and heating system), to make sure the systems are in good working order and venting properly.

Uses state-of-the-art tools to perform a series of tests to measure temperature fluctuation and energy usage, including:

A blower door test

, which puts the home under negative pressure to simulate how your home responds to 15-20 mph winds This test can expose leaks around windows, entry doors, baseboards, top plates, bottom plates, band joists, and other penetrations, etc.

Infrared camera imaging to detect areas where outside air is leaking into and out of the home.

Creates a personalized energy efficiency and comfort report with recommendations for the best next steps based on return on investment. Eco Three also provides information on federal tax rebates and incentives to help in decision-making.
So if you're sick and tired of always having one room that's too hot in the summer and too cold in the winter, there's something you can do about it.  Energy audits are the right place to start, and Eco Three would love the chance to figure out these challenges for you.
Eco Three is a trusted, leading-edge home energy authority, dedicated to helping homeowners in Alabama through our comprehensive home energy audits and energy efficient upgrades.  Our nationally accredited team of hometown experts uses the latest technology to provide actionable solutions to outrageous energy bills and home-comfort issues. We're not a franchise – we're an experienced group of people with a unique plan and a sincere interest in making a difference in people's lives and the environment.  We service existing homes as well as the new construction sector. Please reach out to us today here or feel free to give us a call at 205-314-3500.