"I need more insulation." We never tire of hearing this.  We love teaching clients that insulation is important, BUT equally important are proper air sealing and duct sealing. When we ask more about overall comfort, drafts, uneven temperatures, and high bills, people will relay several common scenarios.  Here is common scenario 2…
Scenario 2: "Our HVAC system is fine, but the technician said…"
"We had our HVAC (heating/cooling system) checked. It runs a lot and can't keep up.  The technician said the system works fine but said we need more insulation."  We often find that clients calling with this have comfort issues like uneven temperatures. This is often caused by leaking or disconnected ducts. Technicians check the air handler, condensing unit, and/or furnace, but they often do not check the duct system and central return for leakage. Once properly sealed, the duct system properly carries the air a homeowner pays to heat and cool to its intended destination. Thus, this helps solve comfort problems.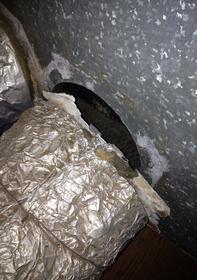 Insulation alone may not solve problems…
We install a lot of insulation.  We understand its importance in overall efficiency and comfort.  However, duct leakage also greatly impacts a home's ability to delivery heated or cooled air.  A leaking straw doesn't work too well.  Neither does a duct system with holes or gaps.  The combination of proper duct sealing combined with insulation and air sealing will help improve comfort and efficiency.  Contact us today to learn more about how we can help you!
Eco Three is a trusted, leading-edge home energy authority dedicated to helping homeowners in Alabama.  We do this through our comprehensive home energy audits and energy-efficient upgrades. Our nationally accredited team of hometown experts uses the latest technology to provide actionable solutions to outrageous energy bills and home comfort issues. We are an experienced group of people with a unique plan and a sincere interest in making a difference in people's lives and the environment. We service existing homes as well as new construction.