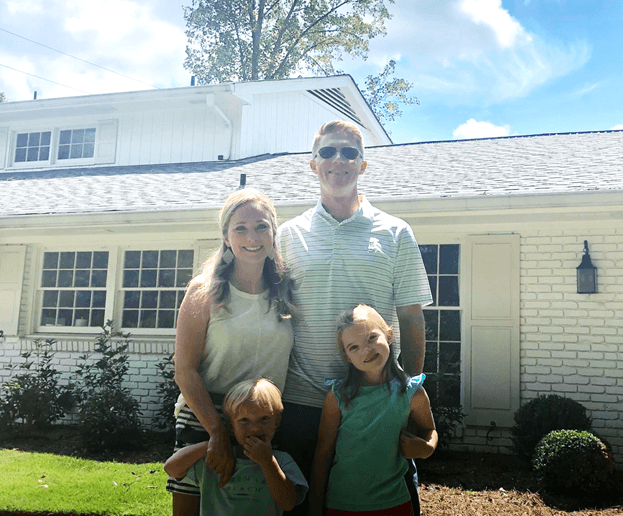 When you buy an older home, you inherit all the idiosyncrasies that make it unique. Some of these qualities like an established neighborhood or mature trees add to the charm of the home. But some of those inherited quirks can be a homeowner's nightmare, especially if they affect your comfort.
Patrick Thompson can attest to that. He and his family moved into their tidy 1950s-era ranch-style home in Vestavia Hills, AL, about four years ago. The 2,500 square-foot home includes a half-story addition that Thompson and his wife thought would make a perfect bedroom for their daughter.
The only problem? That room heated up like an oven in the summer and turned freezing in the winter.
 "It really wasn't livable in the extreme summer and winter months," said Thompson. 
A neighbor who formerly worked for a natural gas utility company suggested Thompson hire Eco Three to figure out why the temperatures varied so greatly in that room.
Eco Three's Jonathan Handey performed an energy audit on Thompson's home addition in summer 2018. The inspection included a blower door test and inspection of the duct work to evaluate air and duct leakage. Handey discovered holes in the duct work, insufficient insulation and air sealing around the addition. Cool air was escaping in the summer and warm air was escaping in the winter.
Thompson hired Eco Three to make the recommended improvements including air sealing the attic floor and knee walls, insulating and air sealing the attic access hatch, blowing in/loosefill insulation in the attic and duct sealing.
The windows were older, Handey told Thompson. Properly sealing the openings in the home's air barrier (in lieu of replacing windows) would make a huge difference. The air barrier is the building envelope – a boundary between conditioned space and unconditioned spaces. The tighter the envelope, the less air that is leaking in and out of your home. Generally, the air barriers in a home are the exterior walls, the attic floor, and the ceiling of the basement/crawlspace.
Once Eco Three completed the air and duct sealing, Thompson and his family immediately felt an improvement. In fact, Eco Three's work impressed him so much that he hired the company to assess the rest of the home and make recommendations.
"The impact on that room was so drastic, I knew I wanted him to do the rest of the house," Thompson said.
Dramatic results 
The initial blower door test results for the home were 9880 CFM50 (cubic feet per minute at 50 pascals) or 31.4 ACH50 (air changes per hour at 50 pascals.) The final blower door test results after Eco Three sealed the air and ductwork leaks in the rest of the home were 3900 CFM50 (cubic feet per minute at 50 pascals) or 11.3 ACH50 (air changes per hour at 50 pascals.) (For reference, current energy code in Alabama requires new construction homes to be at 5 ACH50 or less.)
That's an air infiltration/exfiltration reduction of 60.5 %, one of Eco Three's most dramatic improvements, Handey said.
"All together, we spent under $4,500 on the improvements," said Thompson. "Eco Three has made every room comfortable. It's a fair price for the service they provide. They are very good about customer service, and they are there to get it right. Everything they say they are going to do is done."
Thompson said it's still too early to see year-over-year improvements in energy bills, but he expects he will see savings. "I was putting a bigger premium on comfort. Eco Three definitely made big improvements in that."
Eco Three is a trusted, leading-edge home energy authority, dedicated to helping homeowners in Alabama through our comprehensive home energy audits and energy-efficient upgrades.  Our nationally accredited team of hometown experts uses the latest technology to provide actionable solutions to outrageous energy bills and home comfort issues. We're not a franchise – we're an experienced group of people with a unique plan and a sincere interest in making a difference in people's lives and the environment.  We service existing homes as well as the new construction sector. Please reach out to us today here or feel free to give us a call at 205-314-3500.