Attic Insulation Options
Upgrading your attic insulation is a vital part of making your home more energy efficient and comfortable.  With all the different options out there it can be difficult to decide which product is right for you.  Luckily, the energy efficiency experts at Eco Three can help navigate you through the world of insulation and give you the necessary information to find the best product for your needs.
First off, let's identify the mains types of attic insulation you're bound to see these days: batts (or batten insulation), blown-in (or loose-fill), and spray foam.  Each product has its benefits, but it is important to note that if you choose to use either batts or blown-in insulation, it is imperative to establish a proper air barrier underneath the insulation (along the top plates and drywall and framing).  Air sealing is critical unless you decide to use spray foam insulation, which is an air barrier and insulator in one.  Check out our blog on the "Importance of Air Barriers" for more information.
Batt Insulation
Ba


tts are traditionally made of fiberglass, come in pre-cut widths to fit between joists or studs, and can be faced with a paper lining or left un-faced.  They also usually come in long rolls or can be pre-cut to certain lengths.  One of the advantages to batt insulation is the ease of installation.  There's basically no need for any equipment except a knife to cut the batts to the appropriate length.  However, one disadvantage to batt insulation is that gaps can occur if the space they are placed into isn't an exact fit.  Also, batts are sometimes compressed to fit into tight spaces, and this compression reduces the overall effectiveness of the insulation.  Additionally, in attics where no air sealing has been done, air can easily travel around the edges of batts and into the conditioned space of the home.  Batt insulation typically has an R-value of about 3 per inch.
Blown-in Insulation


A second common type of attic insulation is known as blown-in and is traditionally either fiberglass, cellulose, or a cotton product.  Because the blown-in types of insulation are actually small tufts, they can fill cavities and other spaces in attics with a more thorough coverage than the traditional batt.  Blown-in insulation can also be used to dense pack areas under floors in attics, and when properly baffled, these products can provide complete coverage of an entire attic including slopes on the back of vaulted ceilings and other tricky applications. Cellulose is typically made of recycled paper, and blown-in cotton is sometimes produced from recycled denim scraps.  Fiberglass insulation is often made from recycled glass. These types of insulation typically have R-values in the 3-4 range per inch.
Spray Foam Insulation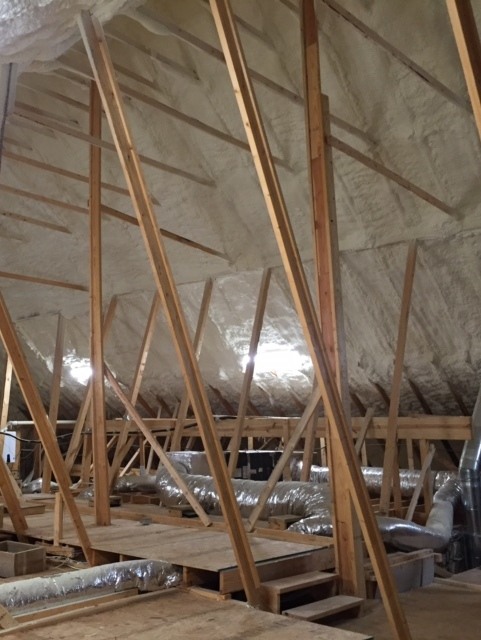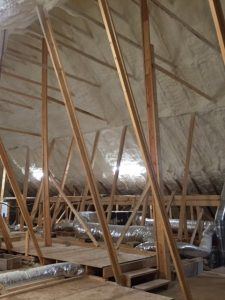 Spray foam insulation (also known as "SPF" insulation or spray polyurethane foam) is gaining traction as a go-to product for attic insulation applications.  This increasing popularity is due to higher R-values per inch compared to traditional insulating products and spray foam's air sealing capabilities.  Because spray foam insulation provides both an air barrier and insulation all in one, there is no need for a separate air barrier to be applied in the attic.
Typically, spray foam is applied to the roof decking and rafters (underside of the roof) which essentially brings the attic space (traditionally outside of the thermal boundary or conditioned space) inside the thermal boundary for a climate controlled storage area.  This also creates a better environment for the long-term preservation of mechanical equipment (your furnace and air handler) and any ductwork contained in the attic because that equipment no longer has to survive the heat of a traditional attic.  This specific application to the underside of the roof is also known as "attic encapsulation." Sometimes, spray foam insulation is applied to the floor of an attic – oftentimes this is done to save money since there is less square footage to cover when spraying the attic floor versus the rafters/roof decking.  Either application is perfectly acceptable. The main issue with spray foam insulation from a consumer standpoint is ensuring it is installed or applied properly.  If installed improperly it can lead to moisture issues, comfort problems, and will not end up reducing energy bills.
Contact us to learn more and discuss your specific attic insulation needs.