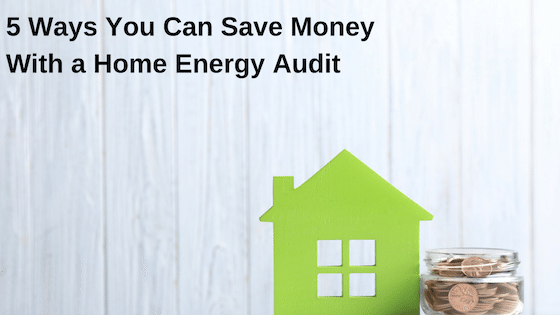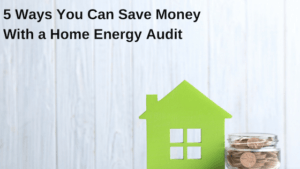 Can you feel the dollars seeping out and the heat creeping into your home every summer as your air conditioner struggles to cool your home? Are you sick of paying high utility bills for a home that doesn't cool or heat evenly? If so, it might be time for a home energy audit.
A home energy audit assesses how much energy your home uses, how much energy is wasted, what needs to be fixed to reduce the waste, and how to prioritize fixes based on comfort needs and return on investment. 
Those fixes can ultimately save you a lot of money and make your home more valuable in the long term. According to the U.S. Department of Energy, you could save 5 to 30 percent on your utility bills by making upgrades identified in a home energy audit.
Here are five specific ways an energy audit can save you money:
1. Locating and eliminating drafts
Did you know the average home has enough air leakage to equal the amount of you would have if you left a medium-sized window open 24 hours a day?  A blower door test, usually performed as part of an energy audit, can reveal the location of these leaks and quantify the amount of air leakage.
Locating and sealing air leaks around doors, fireplaces, and windows with caulking and weather-stripping can save enough money on energy bills in a year to pay for the improvements.
2. Assessing your duct system and HVAC
Leaking ducts will make your HVAC less efficient, wasting money and decreasing comfort.  A duct pressure test measures the amount of leakage in a duct system and air handler. In most homes, the duct system resides in the attic or basement/crawlspace. If your duct system leaks, you are basically pumping cool or heated air into those areas — and paying for it.
Leaks can also lead to mold inside the duct system. Condensation forms when cool air meets warm air, so when a duct system is carrying warm air that leaks into a cold basement the result is condensation and sometimes eventually mold. 
As part of its energy-efficient upgrade for an existing home, Eco Three can seal duct work and then test it using a pressure pan to ensure each is sealed to less than 1 Pascal. In new construction, sealed duct work must meet that area's requirements for the Energy Code; this is measured in CFM (cubic feet per minute) per 1,000 square feet. 
3. Determining if you need more or better insulation
Insulation plays an important role in your home's energy efficiency and comfort. There are many types of insulation, and a home's configuration helps determine the type of insulation used. Meanwhile, local home energy standard codes set minimum insulation requirements. 
Insulation is measured by R-value, or its ability to resist heat flow. Generally speaking, more insulation increases your home's R-value. But the proper installation of insulation along with consistent layers throughout your home makes a big difference. Eco Three can ensure your home is insulated correctly with quality materials.
4. Inspecting windows
Did you know heat loss and gain through windows is responsible for 25 to 30 percent of heating and cooling costs in a home? As part of an energy audit, Eco Three inspects windows and can help you decide whether you should consider replacing some of them or just focus on adjusting and improving air sealing around the existing ones with weatherstripping and caulking. That, along with window treatments and coverings, may be all you need. 
5. Assessing energy usage 
An analysis of your energy usage could help you find ways to reduce your energy bills by changing minor things, like replacing traditional incandescent and halogen light bulbs with LED bulbs. 
It could also determine if you are using an inordinate amount of energy heating or cooling your home when you aren't there. A programmable thermostat, which allows you to reduce energy usage while you are out of the home, could save you 10 to 30 percent on heating and cooling costs.
 As part of an energy audit, Eco Three will give you personalized energy efficiency and comfort report with recommendations for improving your home's efficiency. If you are looking for ways to save money and increase your home's comfort and value, an energy audit is a great place to start.
Eco Three is a trusted, leading-edge home energy authority, dedicated to helping homeowners in Alabama through our comprehensive home energy audits and energy efficient upgrades.  Our nationally accredited team of hometown experts uses the latest technology to provide actionable solutions to outrageous energy bills and home-comfort issues. We're not a franchise – we're an experienced group of people with a unique plan and a sincere interest in making a difference in people's lives and the environment.  We service existing homes as well as the new construction sector. Please reach out to us today here or feel free to give us a call at 205-314-3500.