The Importance of Air Sealing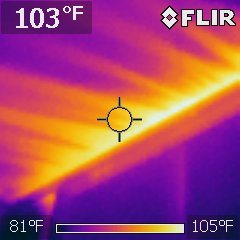 Insulation is an extremely important aspect of home energy efficiency and home performance.  However, air sealing is an equally important component that is often overlooked.  When we talk about an air barrier, we are referring to the "building envelope" – a boundary between conditioned space and unconditioned spaces.  The tighter the envelope, the less air is leaking in and out of your home.  Generally, the air barriers in a home are the exterior walls, the attic floor, and the ceiling of the basement/crawlspace.  All of these locations contain plumbing and electrical penetrations, unsealed recessed/can lights, open chase ways, and open bottom and top plates that all provide pathways for air infiltration and exfiltration.
Think about it this way…have you ever been out in cool weather with a little wind and put on a sweater or fleece jacket?  You may have felt warmer but still felt the wind blowing through.  If you couple your sweater or fleece with a wind breaker or shell, you would feel even cozier. Well, think of your house the same way.  The insulation is like your sweater, and a properly sealed envelope (or air barrier) is like your wind breaker.  When your HVAC system (heating or cooling) turns on, it pulls air into the central return from wherever it can (along paths of least resistance), and heats or cools and dehumidifies the air before it forces it out via the registers into each room.  Oftentimes the systems will pull air from your hot (or cold, depending on the season) attic or basement and then work to cool or heat it.  Wouldn't it be less work and take less energy for your HVAC system to heat or cool air that is NOT coming from the outdoors?!  Definitely.  A tighter home holds more conditioned air, so that your HVAC system has less work to do.  Therefore, with proper air sealing and sufficient insulation, you spend less money on your power bill and stay more comfortable.
Case Study: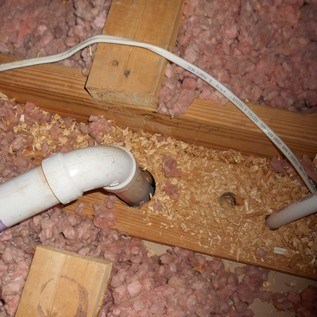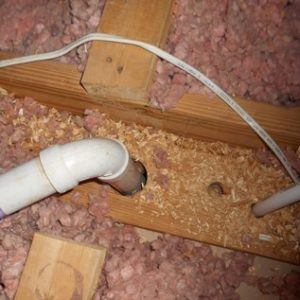 We performed an energy audit on a historic home in the Forest Park neighborhood of Birmingham in the summer of 2015.  The clients were having trouble keeping the home cool enough to be comfortable, and there was a front room with lots of windows that never got cool enough to be in.  Their AC system seemed to run constantly and was not able to keep the house at the desired temperature.  However, the basement/crawlspace was very comfortable…because that is where the duct work was located, and it was leaking very badly.  We completed our audit and prepared our report with the prioritized and customized scope to improve the comfort of their home.  Our top two priorities were sealing the duct work and AIR SEALING.  Insulation was a close third, but due to budget constraints, the clients decided to have us do the duct sealing and the attic air sealing.  And guess what?!  They could immediately feel a huge difference in the evenness of the cooling throughout the home – even in the front room.  This home is not unique in terms of air flow and leaking ducts.  It was built with balloon framing, which means wall cavities run from the unconditioned crawlspace, past the conditioned spaces, all the way up to the unconditioned attic.  This was a popular way of building before the introduction of central heating and cooling because balloon framing causes stack effect and air flow for drafts and natural ventilation.  Since the introduction of central heating and cooling, we work to stop this venting so that the HVAC system works more efficiently and the walls do not radiate hot or cold air from outside.
If you are unsure if your home is properly air sealed and performing at its best and most efficient state, call us to investigate (Birmingham area: 205-314-3500 or Gulf Coast area: 251-615-1330).