It's interesting how many calls we get that focus on comfort issues in the so called "bonus room."  "Bonus" seems like it would be a little something extra – a good thing. However, they often turn out to be more of a bummer than a bonus.  There are several key factors that we address to help solve these comfort and efficiency issues.
Problematic Knee Walls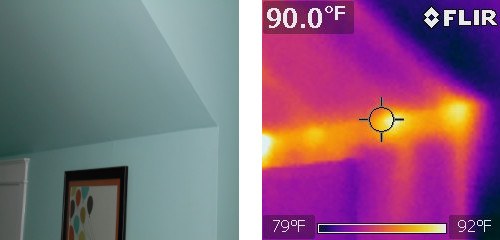 Bonus rooms generally have partially sloped walls/ceilings (dictated by the roofline) and a lot of knee walls. Knee walls are those with conditioned pace on one side and unconditioned space on the other. More often than not, knee walls cause several problems because the top and bottom plates are not properly air sealed.  This allows super hot or cold air from the attic to flow into wall cavities when the HVAC system turns on.  This hot or cold air then radiates out or seeps out through electrical outlets as well as gaps or holes in trim/molding.
Insulation Issues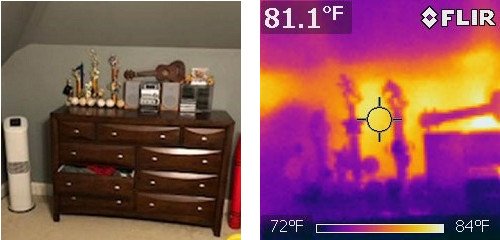 The insulation may have fallen and is no longer in place or was never there in the first place.
We also find that doors from these into attic spaces are not weather stripped or insulated. This allows a large amount of heat or cold transfer into the conditioned space. These rooms are often above garage spaces, which may not have insulation. This leaves the bonus room floor uninsulated.
HVAC Capacity
Bonus rooms are often not finished out when the original house was built, so they are not fully outfitted with duct work.  The sizing of the heating and cooling equipment most likely did not take these rooms into account.  Therefore, the system may not have enough capacity to adequately heat or cool the additional space.
The combination of these issues often means the bonus room can cause more problems rather than providing comfortable bonus space. Maybe "after thought room" would be a better term. We can help by sealing the duct work along with properly insulating and air sealing the knee walls and insulating and weather stripping attic accesses. If you feel like your bonus room isn't turning out to be much of a bonus, contact us to learn how we can help.
Eco Three is a trusted, leading-edge home energy authority dedicated to helping homeowners in Alabama.  We do this through our comprehensive home energy audits and energy-efficient upgrades. Our nationally accredited team of hometown experts uses the latest technology to provide actionable solutions to outrageous energy bills and home comfort issues. We are an experienced group of people with a unique plan and a sincere interest in making a difference in people's lives and the environment. We service existing homes as well as new construction.