What is a HERS® Rating?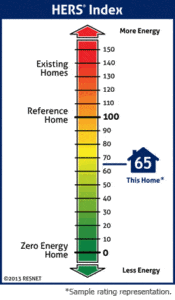 The HERS Index® refers to the Home Energy Rating System  – a nationally recognized way to measure the energy efficiency of a home.  A HERS rating serves as a sort of "miles per gallon" rating on a home.  Just like when shopping for a car, you can use this standard or measure to compare different homes in terms of energy efficiency.  On the RESNET® (Residential Energy Services Network) website, you can find more information about the HERS Index.  You can also look up specific raters and search the registry for specific addresses to see if they are rated here.  The lower the score, the more energy efficient the home is.
The Rating Software:


Each rating is detailed and specific to each home.  Eco Three's HERS Rater, Elizabeth Sanfelippo, uses ekotropeTM software to generate ratings under the supervision of our provider, Energy Vanguard.  The provider reviews each file (rating) for quality assurance.  And they perform Field Quality Assurance Reviews on a percentage of homes rated annually.  Elizabeth tests the duct leakage for a home as well as the overall envelope leakage with a blower door test.  She inputs that data along with detailed measurements and assembly details for every component of the home (walls, roofs, floors, windows, doors, appliances, etc.)  The software then generates the home's score.
Energy Mortgages:
Energy Efficient Mortgages (EEMs) and Energy Improvement Mortgages (EIMs) utilize the HERS Rating to increase loan amounts and combine energy improvements with a mortgage.  A home buyer or homeowner can use a HERS Rating to roll construction costs for energy efficient upgrades into their mortgage.  A new construction home buyer can use a HERS rating to increase the amount of a mortgage (based on potential savings in energy costs).
For more details, visit RESNET's webpage on the HERS Index or call our Birmingham office at 205-314-3500.