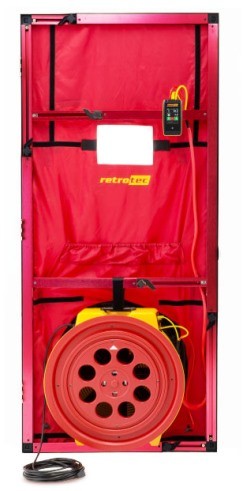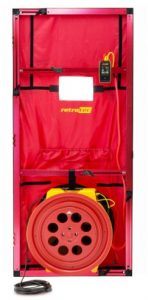 In the world of energy efficiency, a blower door test may be the energy evaluator's (or "auditor's") best friend, but this important test is still relatively unknown to most of the general public. In simple terms, a blower door test is a diagnostic procedure performed by a certified professional to identify air leakage in a building. It simulates observing the home (or building) with a 20 mile per hour wind blowing on it, so wherever air can enter it will. This test helps an evaluator confirm or discover paths of least resistance and areas that can be addressed through energy efficient upgrades such as air sealing.
The test involves one of the evaluator's most important pieces of equipment, the blower door. At Eco Three, we use Retrotec blower doors. The blower door is essentially a calibrated fan that either depressurizes or pressurizes the home. This fan fits inside a framed nylon shroud that is set up inside an open exterior doorway, and a small computer called a manometer measures pressure differential between the inside and outside and controls fan speed. In most cases, the b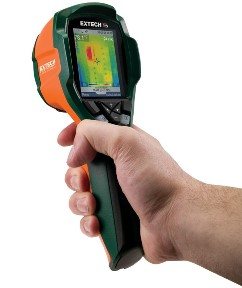 lower door test is set to depressurize a home/building, in which case the fan pulls air out of the home to reach a desired negative pressure. The manometer measures the amount of airflow (infiltration/exfiltration rate), usually measured in cubic feet per minute (CFM) at a certain pressure. For the test, all exterior doors and all windows should be securely closed while all interior doors remain open.
During the test, an evaluator will use tools (such as a thermal camera or a smoke pen) or the feeling of touch to identify air leaks throughout the home.  We usually use a thermal imaging camera from FLIR that is especially helpful in identifying air leaks, specifically where hot or cold outside air is being pulled into the conditioned space of the home from outside, the attic, or basement/crawlspace.
The evaluator can then compare the manometer's reading to the home's building airflow standard (BAS), which is a calculated range of optimal airflow for that particular home/building. The BAS is unique for every built structure, and it is based on square footage, volume, number of stories, climate region, and what are referred to as "N factors." If the measured amount of airflow in the home is greater than the BAS range, then the home/building is considered to be leaky, and improvements can be made to seal the building envelope tighter. A properly air sealed home/building reduces or eliminates drafts from outside while ensuring the air you pay to heat or cool stays inside the conditioned areas.
Contact us today to perform a blower door test on your home or building.