Crawl Space Problems
A healthy crawlspace is essential to a comfortable, efficient, and healthy home. Neglecting the space beneath your home can result in problems ranging from an unpleasant, dank odor inside the home to full blown structural concerns as floor joists rot and fail. Frequently, problems in the crawlspace reveal themselves long before they become serious. As a homeowner, you should look for the following: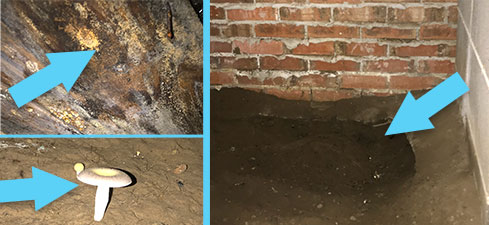 Mold
Condensation build up on duct work, insulation, and water pipes
Rotting wood
Dank or musty odors
Warping hardwood floors
High humidity
High utility bills
What causes crawlspace concerns? Typically, the culprit is water infiltration under the home due to aging construction or poor grading. Most off-grade homes have concrete block walls for the foundation. As your home ages, the waterproofing on the foundation begins to fail. Concrete is very porous. Standing water on the outside of the home leaks straight through the concrete block and spills into the crawlspace. In some cases, the freeze/thaw process creates cracks in the foundation. This allows water to freely flow under your home.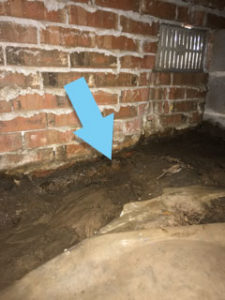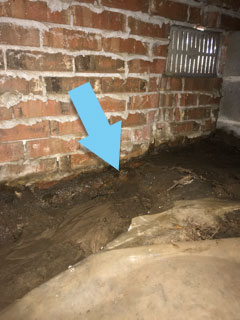 Things to look for:
Crawlspace floor is below outside soil grade level
Standing water against the exterior foundation wall
Foundation cracks
Canyons and trenching under the home indicating running water
Buckled Hardwood floors
Soft spots in your floor indicating a failing subfloor
Elevated wood moisture content (Greater than 13%)
Calcium lines on your foundation wall and piers indicating standing water level
So, how do we fix crawlspace problems?
There are really 3 options.
Closed Cell Foam - Subfloor application
Pros:
Closed cell foam is a vapor barrier
Closed cell foam will insulate your home, thus preventing cold floors in the winter
Closed cell foam is as hard as concrete. It will add a lot of structural strength to your floor system (No more squeaky subfloor)
It's waterproof. Closed cell foam doesn't absorb water. Even if your home floods, the foam will not have to be removed later like fiberglass
Cons:
Subfloor applications of closed cell foam may void your termite bond. Be sure to check with your bonding company before any foam install!
It's permanent. Future changes to home layout will be difficult with closed cell foam on the subfloor
Spraying the subfloor will lock in the existing moisture thus increasing the time it takes for cupped floors to lay down
Doesn't address crawlspace drainage
Floor joist are still exposed to crawlspace moisture
Basic Vapor barrier system - Open Crawlspace System
Pros:
Inexpensive relative to closed cell foam applications and encapsulation
Effective for mild water infiltration concerns
Cons:
Vapor barrier not permanent
Ineffective for crawlspaces with extensive moisture and water pooling
Doesn't address crawlspace air humidity level
Vulnerable to pest and rodents
Doesn't address foundation drainage
Full Encapsulation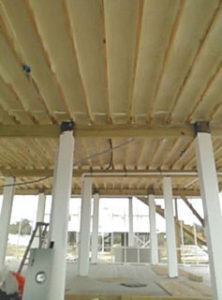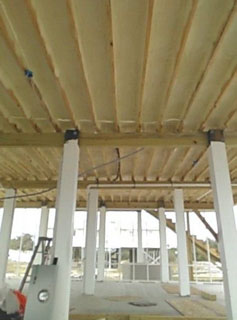 Pros:
Addresses the drainage, moisture, and humidity concerns
Permanent fix
Air Quality improvement
No termite bond concerns
Conditioned storage under home
Cons:
Expensive. Unfortunately, a full encapsulation, especially those requiring french drains, is very labor intensive. The price is high for a reason. It's VERY difficult work.
Call us at 205-314-3500 (Birmingham area)  or 251-270-0942 (Gulf Coast area) or fill out the form below.